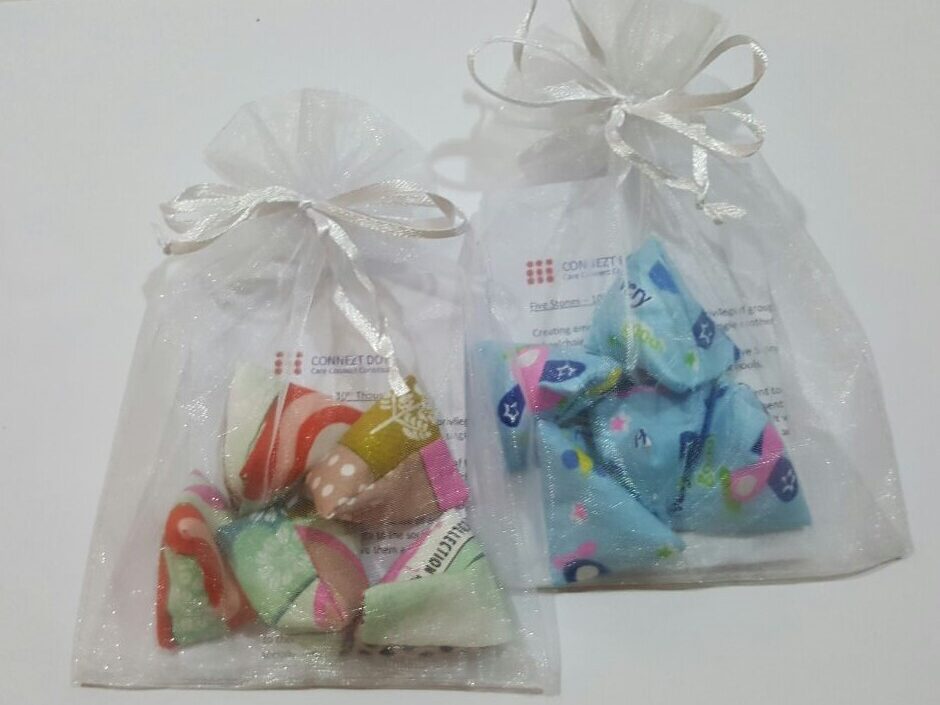 In this project, underprivileged ladies are employed to sew a target of 10,000 sets of the traditional game, 5 stones. Completed 5 Stones are presented to special children in Rainbow Centre, Childrens' hospital wards and MOE SPED (Special Education) Schools. These special children are then taught how to play this classic game.
Partners:
Touch Community Services

Social Service Office Singapore

NKF Habitation Department

SG Enable
Beneficiary Locations:
Special Education (SPED) Schools in Singapore listed under MOE

Rainbow Centre

Childrens' Hospital Wards
Groups employed:
Female inmates

Differently-abled ladies (hearing-impared and wheelchair-bound ladies)

Low-income ladies
Employment Opportunities:
Ladies to sew the 5 stones

Trainers to teach the special children how to play 5 stones

Personnel assisting in collection and delivery of 5 stones
The completed Five Stone sets are presented to the special children by our staff. We then interact with them socially and introduce the game of Five Stones to them.
A little on the history of the wonderful game of Five Stones…. The game of 5 stones is believed to have originated in Ancient Asia, during the Siege of Troy in 1184 BC.  The game aims to helps to improve eye sight and memory, and builds concentration and aiming skills. It a good gauge of one's dexterity and hand-eye coordination.
With the gift of the uniquely handmade Five Stones, we hope the special children will be able to have fun and enjoy a new pastime!
Connezt

ing Tradition with a Cause
We invite you to join in the creation of our "Five Stone Haven"! We welcome all individuals & corporations to contribute  to this project in either of the following ways:
 

Pledge the number of sets of Five Stones to be sewn by the ladies and we will distribute the sets to the schools of your preference on your behalf.

 

Pledge the number of sets of Five Stones to be sewn by the ladies and we will deliver to you upon completion.

 

Provide a monetary contribution for the project. A completed Five Stones set is priced at SGD 1.50.
You are able to pledge your contribution through our Facebook page @Connezt.Dots or send an email to shi-ann@conneztdots.com.sg.
Thank you for your support!
Contact Us
We want to hear from you! Send us a message by filling out this form, or contact us with any questions.
[/vc_column_inner][/vc_row_inner]
[/vc_column][/vc_row]